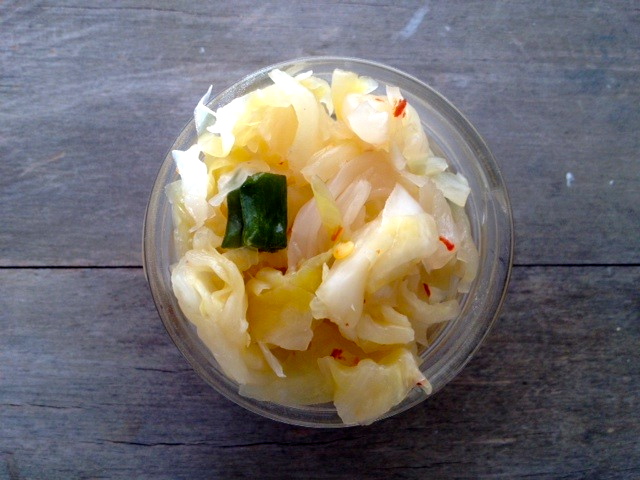 Apologies - Im not reporting back on my kimchi making in a very timely fashion at all. Not because it was'nt successful. Because it was really successful. In fact we're already halfway through our second jar.

I used a recipe from Green Kitchen Stories (one of my very favorite blogs). It's a vegetarian site so the recipe doesn't have fish sauce. I used chilli flakes instead of powder so it did'nt take on the reddish colour I normally associate with kimchi.
I placed my fermenting jars on the kitchen bench to work their magic. While I was impatiently watching them and waiting until I could taste my finished product, I did lots of kimchi research online. There are so so many websites and forums dedicated to making kimchi - it's really inspiring. Korean families pass down recipes and get together to make huge batches. New kimchi makers spend time perfecting their technique and debating the finer points of fermentation with fellow enthusiasts online.
I'm hooked.
Fermented Kimchi (recipe taken from greenkitchenstories.com)
Day one
1 large cabbage
2 Tbsp sea salt
Pull off outer leaves off the cabbage. Remove the core. Cut into 5cm(ish) pieces.
Place cabbage in a large bowl. Sprinkle with salt and toss well to combine.
Place a small plate that fit inside the bowl on top. Stack a bowl, books or other heavy item on plate to press the cabbage down.
Set aside for 24 hours.
Day two
60 mls rice vinegar
3 Tbsp korean chilli powder
2 Tbsp honey (preferably raw)
2 Tbsp grated fresh ginger
3 spring onions, sliced into bite sized pieces
Rinse the cabbage well in cold water to remove the salt and squeeze out the excess liquid.
Combine rice vinegar, chilli, honey, ginger and spring onions in a large bowl. Add the cabbage and toss well to combine.
Place mixture in a large glass jar or a couple of smaller jars. Close the lid and leave at room temperature for 3 days.
Then place in the fridge for 4 days before you eat it.